We've got the swing states on one side, and a swing lady on the other. The passing of the famous Supreme Court judge – Ruth Bader Ginsburg – was an October surprise. An event that will certainly have an impact on the 2020 elections.
Depending on the outcome of the vote, one of two scenarios will play out in November: either the voters will choose the next president of the United States or it will be up to the Supreme Court. In the event of a very close election, court fights will ensue and the presidential election will land before the Supreme Court.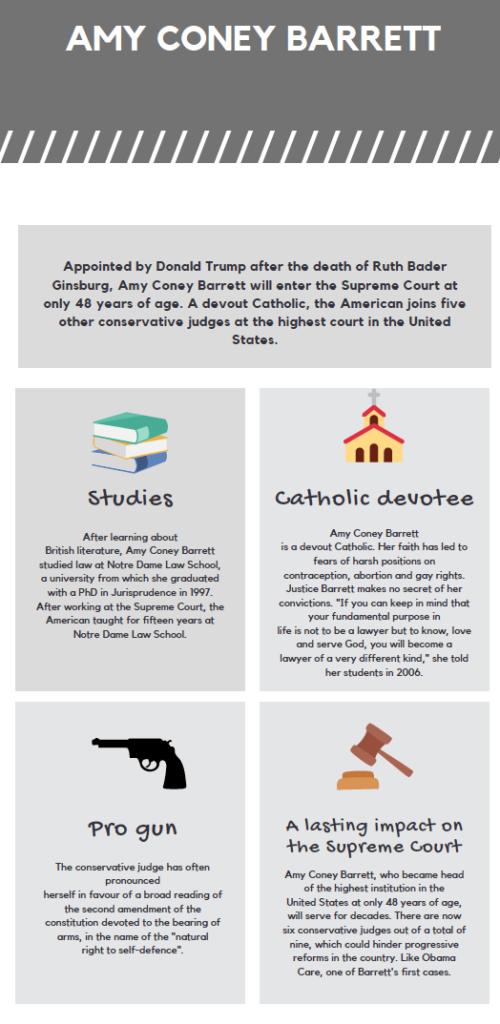 Q&A: 1. Are we looking at a razor-thin race that will be settled before the Supreme Court?
2. And if so, is Trump certain to win the election now that five out of eight justices are conservatives?
3. Many Democrats have expressed their concern regarding the imbalance in the Supreme Court after the nomination of Judge Amy Coney Barret. They want to enlarge the Court in order to create a more balanced representation. Do you think this proposal has any chance of passing? It is worth noting that Congress hasn't changed the court's size since the mid-19th century.
4. Another proposal would be to impose term limits on justices. Is it a more consensual plan?
5. It typically takes a crisis to generate support for major change to the federal courts. Are we in crisis? Is it the time for change?
To learn more about the power of the Supreme Court, and its influence on the 2020 race and beyond, we sat with Bernadette Rigal-Cellard, professor of American Literature and Civilization.
Question #1 : Is the average American perfectly aware of the powers granted to the Supreme Court?
Question #2: In what way will the hasty appointment of Judge Amy Coney Barret further weaken the balance in the Supreme Court?
Question #3: Is Judge Amy Coney Barret going to help Donald Trump get more votes?
Question #4: Did Donald Trump politicize the Supreme Court ? And does this challenges American Democracy?
The passing of Judge Ruth Bader Ginsberg, Supreme Court's Feminist Icon, opened a new battle in the race to the White House and sparked tensions all over the country. But it also raised beautiful homages to the women who fought tirelessly for gender equality.
Our reporter Jo Constanz went to the Supreme Court on September 24 to meet with visitors who came to pay their respect. Here is what they had to say.
Raphaël Lardeur, Ludivine Ducellier, Camille Bigot, Jo Constanz