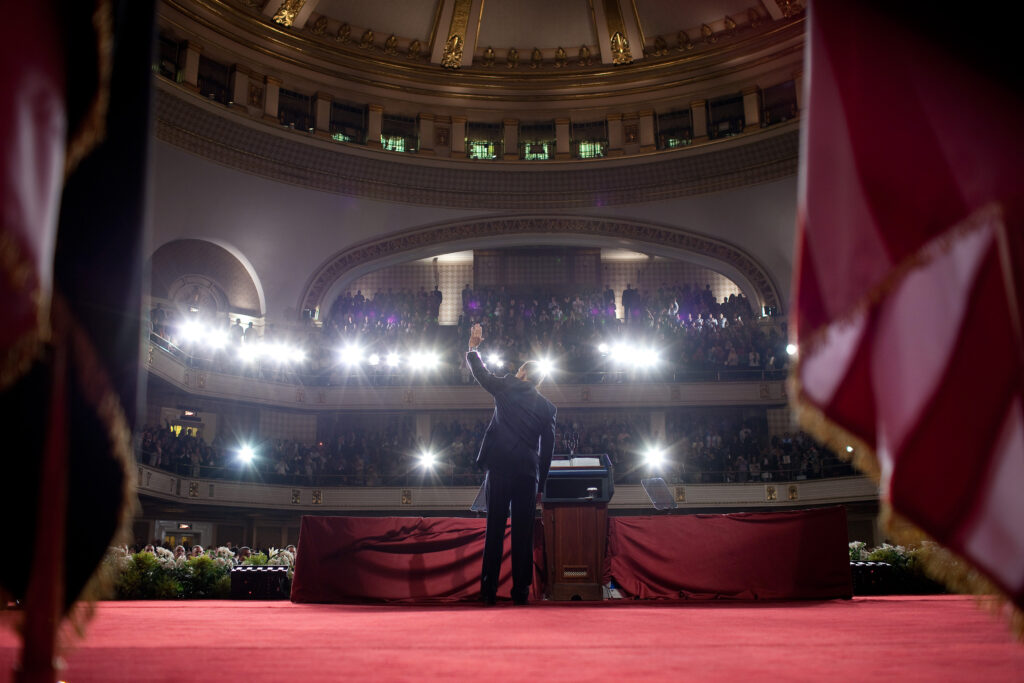 Ideas count in politics, but it is not enough. The way you look, the way you talk, the way you move matter sometimes more. In this podcast, two experts coach a disastrous candidate to become the best of all democrats. The one that will beat Donald Trump.
CANDIDATE: Aaaaaaah, I've got my stickers, my flags and my blue tie … I'm finally ready to run the democratic campaign
SPIN DOCTORS: Wait, wait, wait…
SPIN DOCTOR 1: You wanna win ?
SPIN DOCTOR 2: We're spin doctors
SD1: We're gonna help you…

PIMP MY CANDIDATE

STEP 1: FIND A PUNCHY SONG

SD1: Do you have one in mind ?
C: Well, I've always dreamed of a flaming entrance, like the one with the crowd shouting out your name over a real pure American song like… BORN IN THE USAAAAA
SD2: Mmh… No way… Forget bandanas, guitars and slinky jeans
SD1: Yes, please leave Bruce alone…
SD2: To be in, you have to catch your audience from the very first seconds you step into the arena
SD1: Yes! Even before your entrance! You're a rock star. You have to be announced as such. Before seeing you, people need to know it's you and they will go crazy, scream your name and everything you want…
SD2: Absolutely. Watch Bernie Sanders: last November he walked onto the stage to a Young Thug's song!
SD1: Yes or Joe Biden in an classic style chose to leave his meeting on the deep country voice of Kenny Chesney ! But he strictly respects the balance between white and black singers in his playlist.
SD2: But the most important thing : no B.S!

STEP 2: AVOID BAD BUZZ

SD1: If you don't want to be the next target of Donald Trump to soon, don't imitate Elizabeth Warren who claimed she had Native American origins
SD2: She had to apologize because it wasn't fully true according to DNA tests
SD1: Please, don't make us write public apologies
SD2: Yeah, you have to take care of everybody

STEP 3: HIT ON YOUR COMMUNITIES

SD1: In order to flatter everybody, what's better than personalized goodies
SD2: Grannies' hats, kids' toys and Rosie the Riveter t-shirts for feminists… great candidates want to get them all on their side
SD1: Obamas stroke hard, as an exemple. In 2012, you could find a baby pyjama stamped « my two dads support Obama » or even a catcollar « I mew for Michelle »
SD2: And to sell beautiful goodies store, you need a beautiful a logo

STEP 4: CREATE A FRESH LOGO

SD1: Look at your competitors. Don't imitate Andrew Yang. His logo is old-fashioned
SD2: A design expert wrote in an American business media that it was a « bad copy of conventional red, white and blue political branding »
SD1: He even said that Yang's logo came across as « an outsider trying to be a part of the club »
SD2: Loooooooooser
SD1: On the other side, Warren's seduced the jury. They found it original and refined
SD2: They even say that it « embraces modernism »
SD1: Let that be a lesson
SD2: Yeah … Ask Beyonce or Jay-Z.
C: Beyonce ? Jay-Z ???

STEP 5: PICK UP YOUR STARS

SD1: If you want to be followed, hang out with personalities that people love
SD2: Joe Biden has been ssen with Tom Hanks, Scarlett Johansson and Megan Rapinoe endorsed Elizabeth Warren… and I'm not even talking about Buttigieg
SD1: Sharon Stone, Michael J.Fox, Ellen Degeneres, Jennifer Aniston, Gwyneth Paltrow, Kevin Bacon…
SD2: But don't only bet on that. A Slate article showed that celebrities support wasn't so decisive. Trump, as an example, had five times less support. And you know how it ended
SD1: Listen, you're young, handsome, and talented. You're gonna find celebrities and then, you will show to the whole world what you worth

STEP 6: RIDE THE SOCIAL MEDIA WAVE

SD2: Facebook, Twitter, Instagram … Obviously, you're already overusing them
SD1: But you have to think forward
SD2: Look at your mate, Bernie. He made the difference using new platforms such as Twitch or Reddit
SD1: He even used Twitch to interact with users a day before a major speech on « Medicare for All » last year
C: But I only have 52 followers…
SD2: Yes, but everything is still possible. According to democratic strategist Basil Smikle, social media helped propel Buttigieg from a relatively unknown candidate to a top contender!
SD1: And if you don't know what to post, we have some ideas…

STEP 7: KIDS AND PETS TO GET SUCCESS

SD2: To attract people on your feed, you have to show your puppy
SD1: It's no coincidence if the tradition of « First Dogs » in the White House has existed for centuries!
SD2: Buttigieg's bulldog playing piano has almost 55 000 likes on Instagram!
SD1: Warren's golden retrever running in an kitchen was seen 320 000 times
SD2: And if that doesn't work, you can post pictures with kids!
SD1: Look at Buttigieg's Instagram account. All of his publications have approximately 25 000 likes. But when he posts a kid, it's up to 70 000!
SD2: Okay, now… there's only one thing missing…

STEP 8: GET A STUNNING CATCHPHRASE

SD1: Trick question. Biden used the slogan : « No malarkey ». What do you think about it?
C: Eeeeer…
SD2: It's a complete disaster ! Young people didn't even know what this word means
SD1: That's fuddy-duddy
SD2: You have to find your « Yes We Can »
C: MMMhhh … what about « Theo, the lights out candidate » ?