Ninho's latest album, Jefe, reached incredible scores in Asian charts where his popularity has yet to be established. How did he manage to do so? his competitors suggest he's been buying streams but are these allegations true?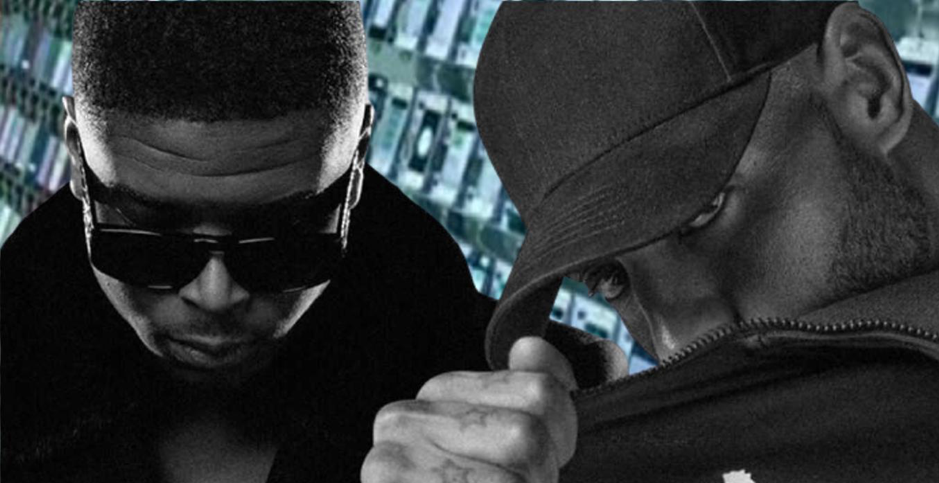 Booba accused Ninho of buying some views on music streaming platforms to increase his popularity and his rank on the best songs top. Credit :IJBA/Universal Music
Booba accused Ninho of cheating in an Instagram story, and then on Twitter. He has supposedly bought fake tunes for his last album Jefe. To prove it, the rapper used a screenshot, published by the blog "13 or du Hip-Hop", showing Ninho topping the charts in countries such as China, Thailand and Romania.
The source of this screenshot is the website Kworb.net But a look at its archives shows that the image was manipulated. Nihno never topped the Chinese charts. During the same period, the Taiwanese singer Jay Chou, one of the best-selling artists in China, replaces the rapper in the top 5. Nihno is not mentioned at all in this chart. He was quick to respond to Booba's accusations.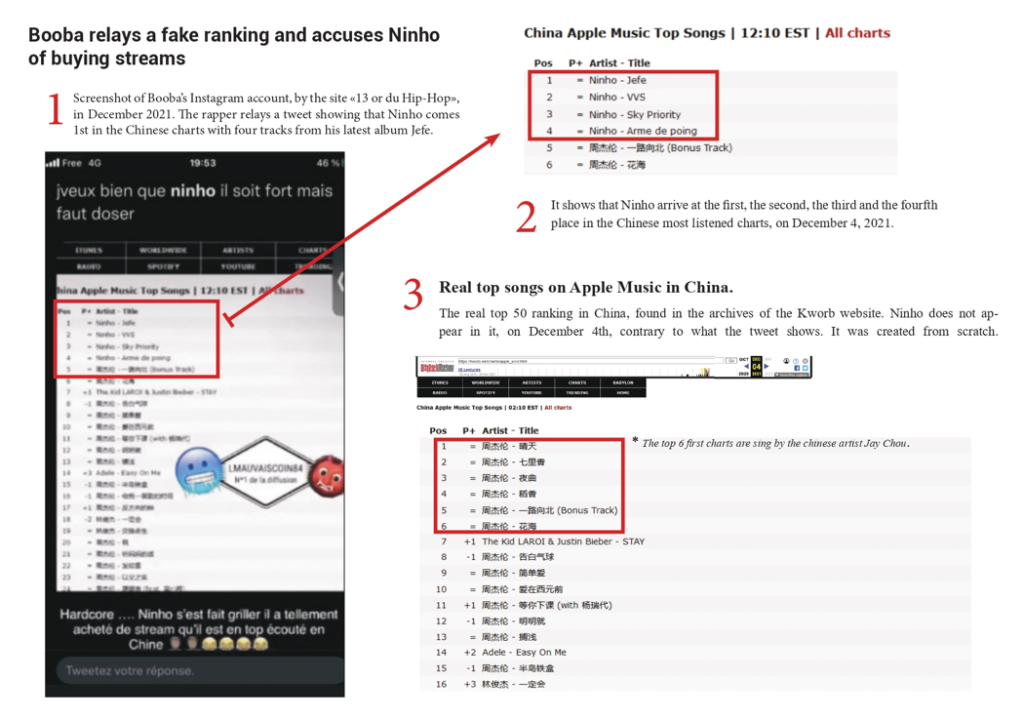 The numbers are fake regarding China but Nihno is indeed in the top charts in Singapore and Thailand. How is it possible ?
French music industry tunes up to prevent fraud
The problem of fake streams often comes up in music. They can be purchased for little amounts of money in order to boost sales and gain visibility. The issue has been a growing concern for the Syndicat National de l'Edition Phonographique (SNEP), one of the instances regulating the music industry in France. In a recent article published by the French newspaper Les Echos, we learn that the Syndicat believes that rapper tend to illegally buy streams to increase their popularity. As 1500 streams equals one sale, that kind of strategy allows them to climb up to the top music list easily, and earn more.
That is why, in an effort to combat fraud and fake stream, only premium consumption (paid subscriptions) is taken into account for the calculation of best sellers and certifications by the SNEP, since 2018. And the song must be played for 31 or 32 seconds.
Very good performance in France
In a world where the value of an artist comes down to his certifications, his number of views and his listenings on streaming platforms, the public and record companies alike chase big sales. With his third studio album, the most certified artist in the history of French rap has again achieved dizzying scores.
He was Spotify France's best debut of the year, with 12.9 million streams in 24 hours. All 15 tracks on the album ranked in the top 15 of the Apple Music top 50. Most listened album in three days on Deezer…
In its first week of release, Jefe sold 66,685 copies. However, it is less impressive than Orelsan's album « Civilisation », which was released on 19 November 2021, and which sold 138,929 copies. The big difference between the two projects is the part of streaming in sales. With 38,894 streaming albums, it represented 28% for Orelsan. For Ninho and his 56,118 sales: 84%.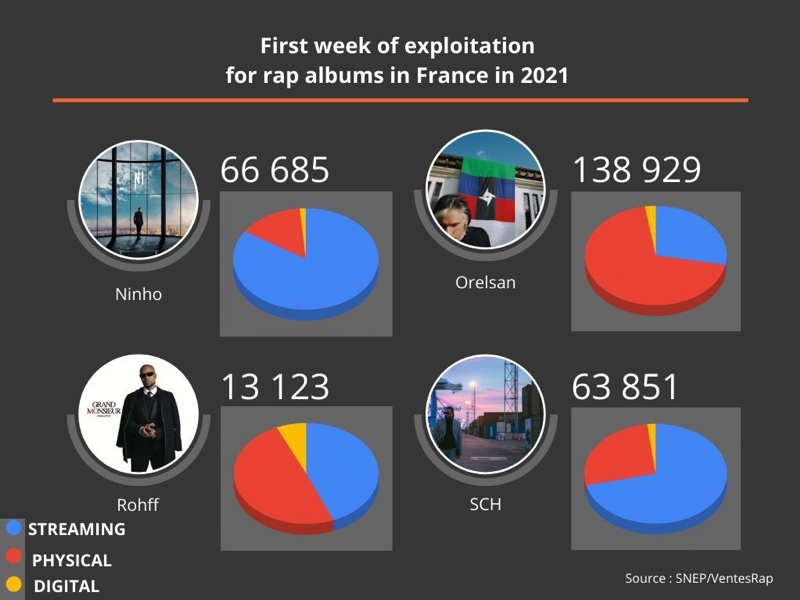 Impressive scores in Southeast Asia on Deezer
Bit Ninho's scores aren't only impressive in French-speaking countries. With the release of Jefe, the artist was propelled into the Asian charts. On December 4th, the day after the release of his album, the French rapper climbed to the top 15 most listened tracks in Thailand on Deezer with the song Jefe. On December 5th, the track peaked at number 9 in the charts. His other songs VVS and Sky Priority also seem to be appreciated by the Thai public, and ranked at the 17th and 23rd position. He also made an entry in the Philippines – Jefe was the 38th – and in Singapore – 57th.
No Ninho trend
Seing how he was topping charts in Asian countries we tried to look at his popularity in this area by analyzing his researchability on google. Thanks to the tool Google Trends, we were able to verify that for the last 90 months, only one search peak occurred on the 4 of October –which is related to no particular news. The rate remained at 0 the rest of the time. In the Philippines and Singapore, no data is available and usable for Google. In these three countries, the interest for the artist seems non-existent. In comparison, France is in the 16th position out of 21 countries, and showed an interest rate of 81 points when the album was released.
On social media, no Thai name stands out from Ninho's 3 million subscribers. A bias that is hard to bypass is that of the number of French speakers in Thailand. The Alliance Française counted « more than a hundred thousand and some 40,000 learners » in 2020. Even if we consider that they all listen to Ninho, it is almost nothing compared to the 9 million of listeners per month, from only Spotify & Deezer.
What about click farms?
Then, where do these streams originate? From Thailandese click farms? This type of fraud usually require a series of computers or smartphones turning in loops and continuously. But we could find no evidence to substantiate this theory. The only case of solar fraud we could find occurred on June 11, 2017. The TV channel Thai News Agency MCOT published a video about the arrest of three Chinese-men in Aranyaprathet, near the border with Cambodge, who were illegally working in a streaming farm. 500 iPhones and tens of thousands of SIM cards were seized.
Nihno's scores in Asian countries are inconsistent with his popularity but we could find no evidence of fraud. And this is not the first time that inconsistencies were recorded in the music industry. In 2019, at the release of their albums, Ninho and Booba got excellent scores in Laos and Tajikistan. Ironically, Tadjik citizen searched for Booba on Google.
Abdelmalek Benaouina, Marie Montels, Emma Rodot, Julie Malfoy
---
BLACK BOX
You can learn more about the investigative methods used in this article by clicking on this link :