On February 29, 2020, South Carolinians will put their ballot in the box to choose the Democratic candidate for the presidential elections. The stakes are special for these open primaries, the fourth on the calendar, because the southern state has long been Republican.
White sand beaches and the Atlantic Ocean. Lakes, small towns and rivers. But there are also cities with a lot of history such as Charleston and more modern ones like Columbia, the state capital. This is what South Carolina, also known as the "Palmetto State", looks like. As proof, a palmetto stands on its dark-blue flag often hanging from porches along with the American flag.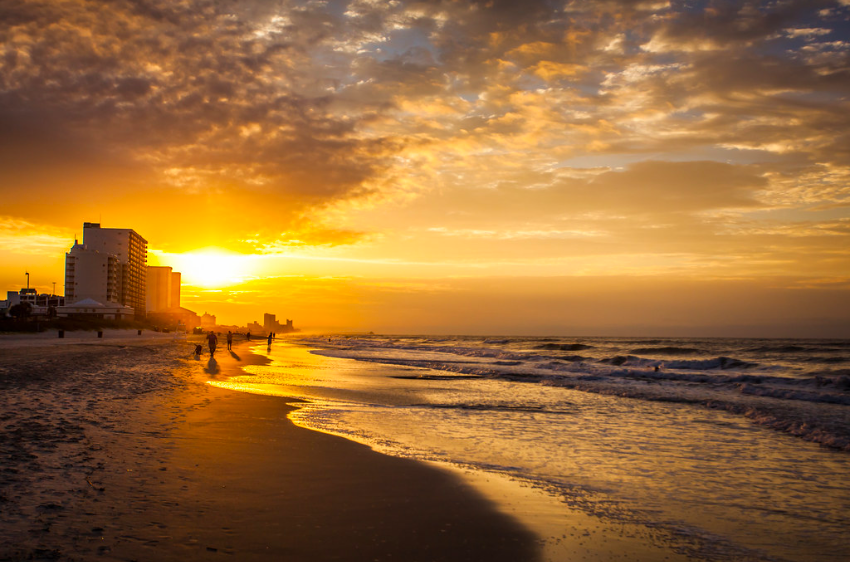 If you have ever been to South Carolina, you might have noticed that outside of the cities, plantations are everywhere (just like humidity, which makes summers hard to bear). You might have also observed religion is important to many people. Some might also explain why owning a gun is important to them as well.
Out of 51 states, South Carolina is ranked 40th in terms of surface area and 24th in terms of population.
The approximately 5 million inhabitants of South Carolina's are "primarily Republican" voters according to the State 's political journalist Maayan Shelter. It has been the case since 1964 when Barry Goldwater, whose conservative presidential campaign changed the tendency of Southern states who had voted Democrat since 1932.
South Carolina's primaries: a test for Democratic candidates
Within the population, about 3 million residents are White and about one million are Black which ranks South Carolina fourth with the highest Black population in the USA. Also, 60% of Democratic voters are Blacks in South Carolina. "There are fewer and fewer white voters in the democratic electorate", the french political scientist Lauric Henneton explained.
For the Democratic candidates running in the 2020 presidential primaries, South Carolina is thus a test. After Iowa, New Hampshire and Nevada, South Carolina is the fourth state to organize primaries but the first to have such an important amount of African Americans voting. "Those primaries give Americans some significant elements just before the decisive Super Tuesday", Henneton claimed.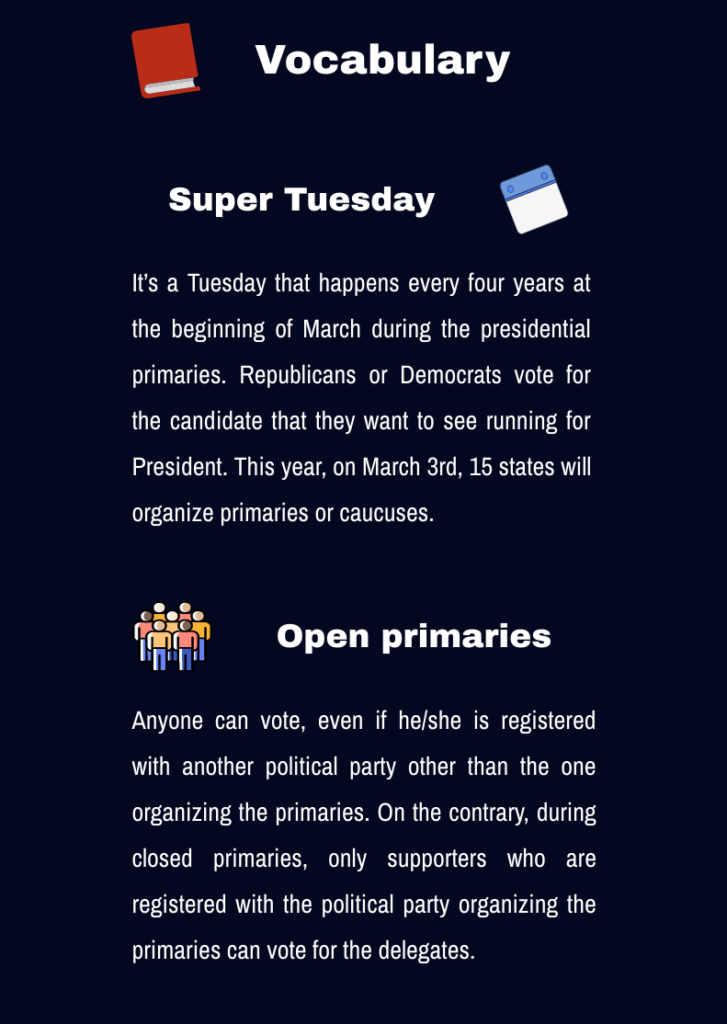 Among the leading candidates, Joe Biden is in the best possible position in South Carolina. The last Fox News polls announced he was the clear frontrunner in the state with 36%. And this is not a surprise. According to one of Politico's poll, Joe Biden supporters are 36% more likely than all democratic voters to be black voters.
His popularity among African Americans obviously stems from his eight-year stint as Barack Obama's vice president, and he does not hesitate in invoking his name in front of black audiences and to defend their administration's policy victories. This part of the population, for example, is very attached to its medical insurance.
No primary planned this year for the state's Republican voters
This year, the Republican party of South Carolina decided they won't organize any primaries to support Donald Trump's reelection. To Shechter, it's not such a surprising fact considering "President Donald Trump has had a pretty strong relationship with South Carolina's leaders. But if we consider the fact that the Democratic Primaries are open, it could let anti-Trump Republicans participate in the ballots.
" When Democratic open primaries are organised, there is always a possibility that other voters, including independents and Republicans mobilize ", French political scientist Lauric Henneton suggested.
Maayan Shechter, who is a political journalist for the local newspaper The State, observed the phenomenon. She wrote a story about people who had been voting Republican since the Reagan administration, but voted for a third-party candidate when Trump was on the ballot in 2016.
She considers this portion of Republicans is likely to vote in the Democratic primaries. Especially since some topics traditionally discussed only by Republicans such as offshore drilling are now considered by Democrats. "They could line up in the primary, that's definitely a possibility.", added Shelter.
How significant will the phenomenon be? The journalist says this is something she cannot estimate. "It is not a crazy large number but it's certainly a healthy enough number to make me wonder if there are plenty more out there (…) Part of the problem is that many Republicans don't want to talk about that possibility". She added that everytime you ask a Republican about the driving force that could encourage them to vote for a Democrat, he/she says they just ignore Trump's rhetoric and the turnover in the Trump administration.
Trump administration has turned young people into democrats supporters
The big question regarding the nominee of the Democratic party is " the scale of the mobilization of moderate South Carolinian Democrats and of independent voters who generally are less invested," according to Lauric Henneton.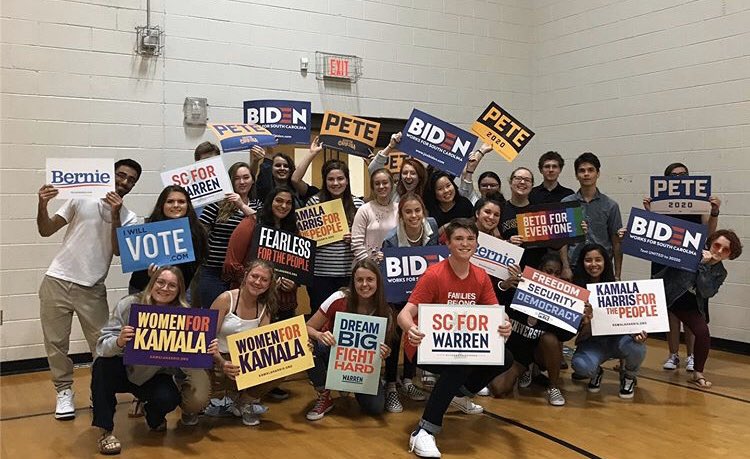 Surely Donald Trump's presidency progressively strengthened the ideas and the convictions of a certain part of the blue voters. Twenty-six-year-old Jeremy Jones, vice-president of the statewide Young Democrats since April 2018, was just a kid when he got interested in politics. "In 2008, when I was 14 years old and Obama was running for the White House, I was going door to door to inform people about the election. I was very active because he was the first black candidate". Today his teammates and himself are trying to mobilise potential voters for the Democratic primary: "We are trying to promote the vote effort, it's important for people to know".

Sometimes the Trump administration even brought about a political commitment in people who were not interested in politics before, just like Noah, a 17-year-old student. In 2016, this young man from Myrtle Beach did not follow much of the presidential campaign. But, when he realized Donald Trump won, he immediately told himself: "This man can't be our president. I have to do something !" So, he founded the Young Democrats Club in his high school. Today, it has 35 members.

"We talk about the candidates, we help with the campaigns but above all, we try to convince people to vote", he proudly explained. Some of them have been strongly supporting candidates since the beginning of their campaign for the 2020 presidential election. Others simply want Donald Trump out of the White House. But, all of them will surely vote in these primaries.

"Here in South Carolina, Democrats are excited. This is one of the largest primaries* we've ever seen! And I think this is a clear sign that we are completely prepared to face Donald Trump", claimed the teenager who will be able to make his ballot count for the first time on February 29th.

*There are 14 candidates